A small introduction of our Restaurant & Café....
Our restaurant is located in Bad Faulenbach, a district of Füssen and only 10 minutes driving distance from Schloss Neuschwanstein.
With its idyllic position directly at the Lake Mittersee we can offer you a fantastic ambience.
Come and relax trom all the hectic of our todays lifestyle  and let your impressions just assimilate on our lovely sun-terrace overlooking lake Mittersee. Or just have a seat in our cosy restaurant.
Our fine cuisine offers you regional specialties, hearty meat dishes and fresh fish and all dishes are prepared with great care and love - thats what we attach importance to.
We are serving hot and fresh meals permanently.
Our opening hours can be seen here.
We hopefully can welcome you soon - English is spoken - English menue available.
Enjoy your stay in Füssen and have a nice holiday...
---
---
Una piccola introduzione al nostro ristorante...... 
Il "Waldwirtschaft" si trova a Bad Faulenbach e soli 10 minuti di macchina da Füssen e el Castello de Neuschwanstein.
Offriamo un piacevole soggiorno con una fatastica vista sul lago. È possibile recuperare dalla vita vivace sulla nostra terrazza soleggiata o nella nostra casa accogliente.
Usiamo solo prodotti freschi provenienti dalla regione, offriamo cucina regionale, piatti di pesce fresco o a base di carne 
e serviamo pasti caldi durante tutta la giornata.
I nostri orari di apertura  é possibile consultare que. Speriamo que possiamo dare il benvenuto molto presto.
Augiriamo buone vacanze.
Con i migliori saluti... 
---
Welkom op onze website en welkom in ons Restaurant & Café.
Hier kunt u zich ontspannen, tot rust komen, zich laten verwennen  en genieten van het uitzicht op het idylisch meertje Mittersee  – kortom: er even helemaal tussenuit zijn! 
In de Zomer, verwelkomen wij u op ons zonneterras en als het weer niet zo mooi is, kunt u plaats nemen in het gezellige restaurant.
Onze uitstekende keuken biedt regionale specialiteiten, heerlijke visgerechten en smakelijke vleesgerechten.
Wij bieden de hele dag warme gerechten aan. Onze openingstijden kunnen middels de link worden aangetoond.
Wij verheugen ons erop u binnenkort te mogen verwelkomen en wensen u een heerlijk verblijf in het Allgäu.
---
Introducción pequena en nuestro restaurante:
El restaurante está en Bad Faulenbach, un parte de Füssen y solamente 10 minutes en coche de castello Neuschwanstein. 
Podemos ofrecer un ambiente fantastico a causa de la posición romántico directamente al lado del lago Mittersee.
Puede relajar de la vida cotidiana y assimilare las impressiones de la aerea sobre nuestro terraza del sol con una  vista magnífica al lago. O facilmente dizfrutar del nuestro restaurante agradable.
Nuestro cocina delicada ofrece peculiaridad regional como comida de carne fresca, pescado de la region - todo preparado con diligencia.
Servimos platos calientes todo el día. 
Nuestro  horario de apertura .
- Hablamos íngles -
Hasta pronto y buon vacaciones en Bavaria.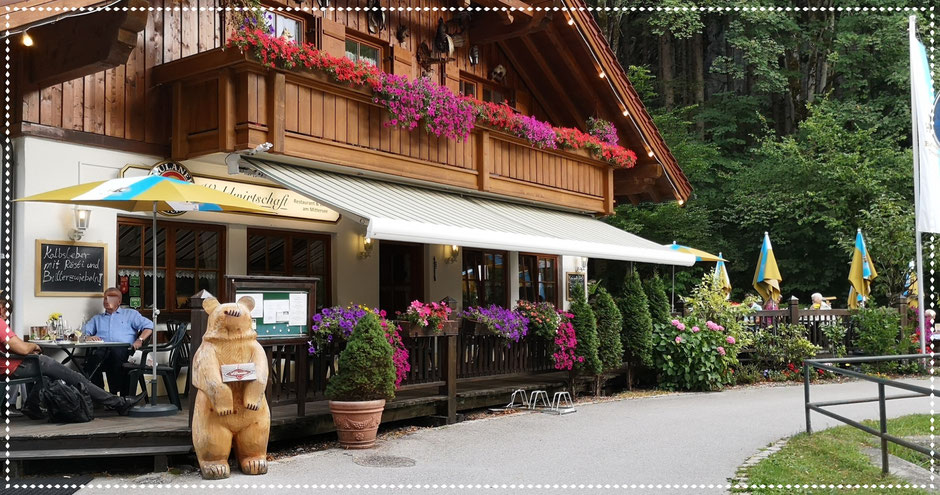 ---